Are you struggling to find the suitable vinyl tile display stand?Or don't know where to buy a favored display
rack.You need to consider the size, thickness, the show effect, price,etc, don't worry,today let me introduce
several simple vinyl tile display stand to you which are made by Tsianfan industry.
Single-sided double-row hanging display stand
As the photo shows,this rack is very simple, can display 8 tile flooring samples, the display frame is made of
high quality steel, and the top billboard board is made by MDF.In terms of technology, the spray paint is
environmentally-friendly, LOGO is electroplated, and the display is easy to assemble. It can be used in floor
sales stores, floor building materials market, exhibition halls, exhibitions, store displays and other places.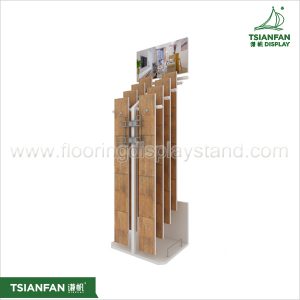 Floor-standing flip display rack
It can display about 24 vinyl tile flooring samples,the number of samples can be increased or decreased
according to your needs. If your store is large, you can consider this floor-standing page display rack.
Instead of rack,I prefer to call it display cabinet,because it looks like a cabinet, the vinyl tile samples
inside are just like dresses, and the overall look is neat.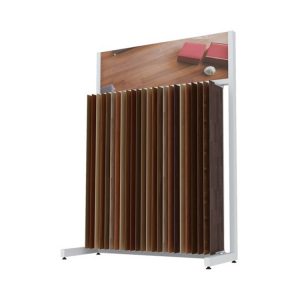 Horizontal sliding reclining display stand
The biggest advantage of this display stand is that it is designed with a roller on the back of rack. It is
light and fast to use. You can store the vinyl tile samples neatly together, or you can disign a beautiful
modeling if you have good ideas.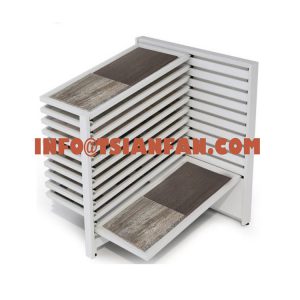 Our product installation is simple assembly, the product's hole position, and spare parts are very complete,
the general product has installation instructions, you can assemble it by yourself, if you have problems in
installation, please contact our staff or email us.
Tsianfan (Xiamen) Industry & Trade Co., Ltd. is a professional display stand manufacturer integrating design,
production and sales.Our team is dedicated to providing you with the most cost-effective design and
manufacturing solutions for Vinyl Display Stand and Metal Flooring Display Rack. More info,please visit our
homepage: www.flooringdisplaystand.com/.
https://www.flooringdisplaystand.com/wp-content/uploads/2016/09/logo-300x60.jpg
0
0
admin
https://www.flooringdisplaystand.com/wp-content/uploads/2016/09/logo-300x60.jpg
admin
2019-03-18 18:04:17
2019-03-18 18:04:17
Vinyl display stand in Tsianfan